Coronavirus keeps spreading and everybody can feel how it effects every day life. Many companies react by sending their employees in home office which is a new situation to many people. I first experienced Working From Home (WFH) in my career in 2007. My company headquarters were in the UK and I was based in Barcelona (Spain). At first it was scary, I kept asking myself:
-How will I keep myself motivated?
-How will I avoid distractions?
-How will I interact effectively with my colleagues, clients, providers?
-How will I balance my work-personal life?
-What will be the impact on my family, friends, housemates?
After a chaotic and burdensome start, I quickly converted all that stress and anxiety into a privileged working lifestyle!
So if you ever asked yourself at least one of the above questions, here come 7 Golden Tips to make sure you can stay productive and enjoy time with your loved ones WFH.
1. Create a Solid Routine
Your usual routine got away. It's time to create a new one!
First you need to schedule:
Your morning routine
Your work hours
Your check out time
Your evening routine
Morning routine
Activities: hygiene/breakfast/workout/time with partner-family-housemates/play with kids/pets/movie/meditation?
Time before start (how long do you need to get ready?)
Get dressed for work
Identify your Priorities of the day based on your own Productivity scheme (see tip #6)
Lunch time: take a proper break! Don't skip it!
Evening routine
Take 5-10min to plan ahead (clothes for tomorrow's videoconference(s)? Ready-to-eat food for tomorrow lunch due to meetings? Etc)
Set tomorrow priorities
Quit at quitting time! Same as working at the office. If you set up your priorities correctly, there is no reason to do extra time. Apart some exceptions such as emergencies/crisis, nothing cannot wait until tomorrow.
Activities: dinner/workout/time with partner-family-housemates/play with kids/pets/movie/relaxation/fun?
2. Set Up your Workplace
Your dedicated work space determines your working conditions and your focus. So make sure you arrange a work space where you will feel comfortable and be away from distractions.
Set up rules and boundaries with your family, housemates, pets
Ergonomic seating position to decrease back and neck pain (comfy chair, 90 degrees elbows bend, foot rest, adjust laptop/monitor height)
Background (white blank fabric background, application blurred background, light color wall, library, etc)
Get your cup of coffee or tea and… Water to help you focus! Lack of water is the number 1 trigger of daytime fatigue
Closed space with locking door. To avoid any disturbance and separate work life from your living space
Unfortunately in some busy cities, promiscuity is often an issue and you might not find a closed space other than your bedroom.
What deal can you make with your family/housemates to get your own space?
What time can they provide you with a quiet environment?
When is your neighbor's dog usually barking or the birds chirping? When is rush hour to avoid traffic noise? Etc. Adapt your schedule based on these factors.
3. Arrange Hang Outs with Colleagues
At the office we all like to say hello to our colleagues, chit-chat at the coffee machine, have lunch with friends, etc. Actually many people like going to work as they will meet their colleagues or even friends at the office. Well, good news is, in 2020 we can do it virtually!
Arrange minimum one hang out session every 1-2 days
Activate your camera! Face-to-face interaction is what we are missing the most currently
Many available apps (Zoom, Skype, Microsoft Team, Viber, WhatsApp, etc)
Keep it real and maintain it
4. Mindful Self-Care
Make sure you take care of yourself as you would do in your normal routine.
Eat, break, drink and rest!
Take breaks, escape breaks
Don't bring food to your desk. You need a proper break for lunch or snacking, away from your screen
Create movement throughout the day. Some people barely move when working from home. How about running a marathon on your balcony or stretching your legs in the living room? Doing some yoga between two calls maybe?
You need to reward yourself with simple things such as food, workout, reading, play/listen to music, play with your kids, videogames, movies, gardening, etc
Guess what? There is another good news! At home you are away from all the junk food! Available at the snacking machines or at next door fast-foods. Time to be healthy!
Reward yourself with a nice meal! Cooking or food delivery, plan for the week
5. Ask for What You Need
Working from home doesn't mean that you are on your own. Do exactly as you'd do if you were at the office.
Don't hesitate to ask for what you need to your colleagues/manager
Compensate the "out of sight, out of mind"
Make sure you agree on a medium of communication that suits your collaborators
Ideally use a different app from your usual social networks (Telegram, Slack, etc)
Limit the number of participants in group chat to optimize time of response
6. Identify and Mitigate Distractions
This is a big one. Smartphone notifications, trips to the fridge or to the toilets, kids walking in, nice weather outside, etc. All of these distractions represent a big part of your daily routine, make sure you reduce them when working.
With distractions, it takes you 8-10h at work. At home, it should take you 6-8h
When are you the most productive during the day?
Check out this simple method below to find out:
Draw a vertical axis for Productivity ranking
Draw a horizontal axis for Time
Rank your own productivity from 1 to 10 according to the time of the day (morning, before/after eating, within/out of meeting hours, etc)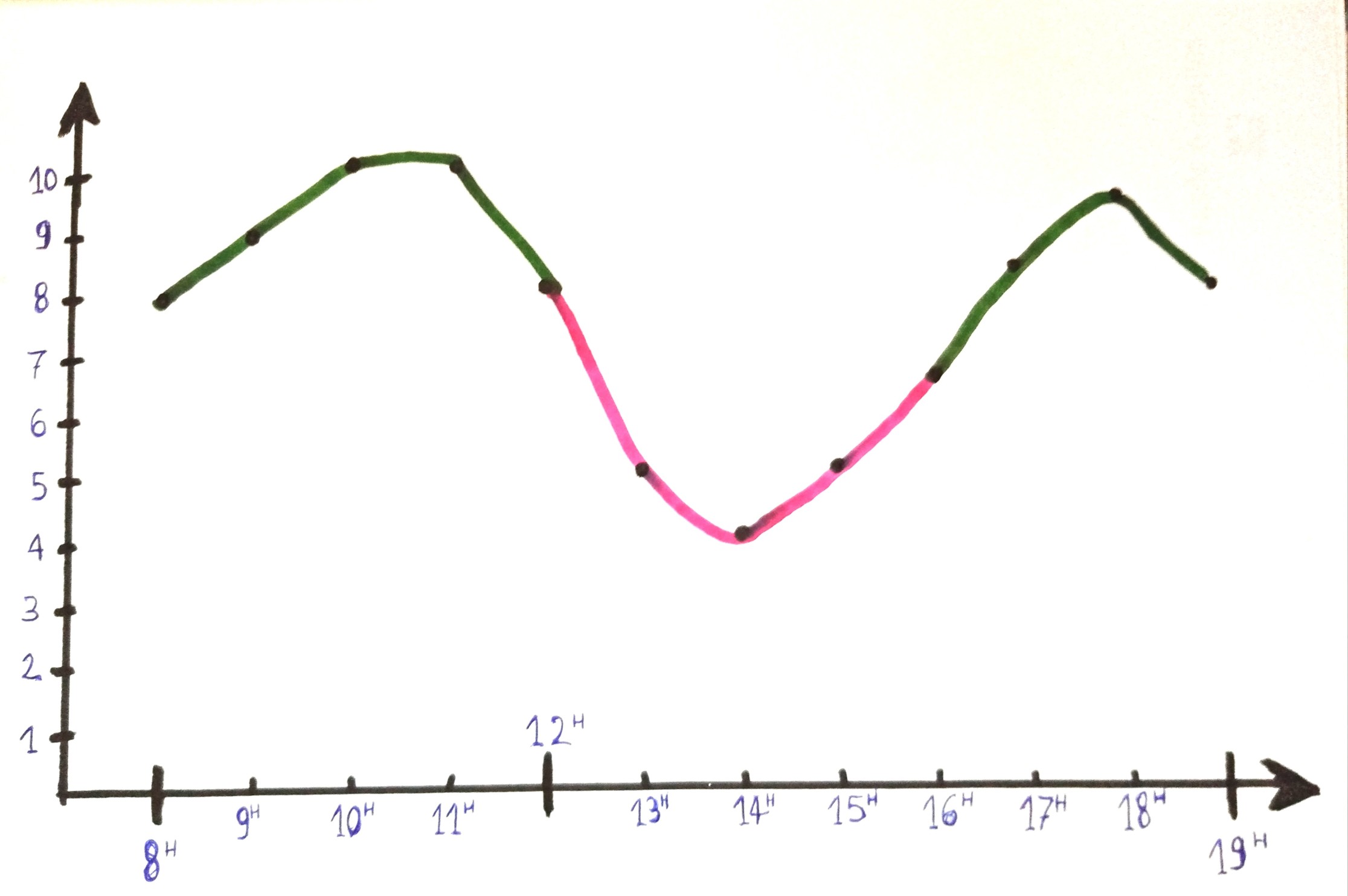 Now that you know when you are the most productive, how to avoid being busy all day with online meetings? Nowadays most companies schedule many meetings and sometimes it doesn't allow employees to focus on their priority tasks. What applies at the office is even worse with Teleworking.
Therefore it is critical to avoid scheduling meetings when we are the most productive and balance focused tasking vs meetings.
7. Balance your Personal and Work Life
Efficiency versus long work hours.
Optimize your work hours
Make your own to-do-list
Prioritize your tasks by importance/urgency
Block out times of your day based on your productivity scheme
Be intentionally visible (update your status or turn on/off notifications on chatting apps based on your schedule/routine)
Beware the temptations to work when you shouldn't!
When you work, you work
When you don't work, don't
Turn off your email/work notifications when you check out
Be mentally present when you are with your family/friends
Control how you intake the news. Current covid19 situation can be very stressful. Don't add extra stress/anxiety to your WFH life. Give permission to somebody you trust to interrupt you and feed you only with important and drastic news
And remember, you are at your "home sweet home" where YOUR rules apply… Therefore, master your Teleworking!
Coming up next, "10 Golden Tips to Manage Remote Teams". Stay tuned and stay safe!